Keep Your Techs Connected & Happy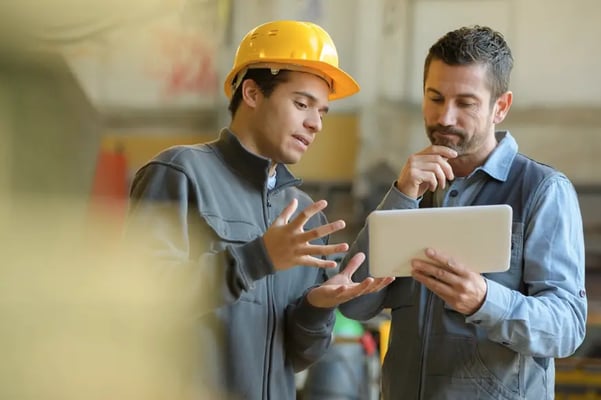 Your techs are the face and heartbeat of your company. They're the primary contact you have with your clients. And they work hard to get every job done quickly and effectively. Without your techs, your business wouldn't be able to operate. That's why it's essential for you to give them the tools they need to get those jobs done right the first time.
But your technicians don't just need physical tools. They need an all-in-one FSM solution that gives them everything they need to stay connected and aware of current and upcoming jobs.
An FSM solution ensures your technicians always have everything they need to get the job done.
Keeps Your Technicians Informed
Your field techs need access to customer information, job history, equipment history and inventory while they're out in the field. This information is critical for them to be able to do their job effectively. With an FSM all-in-one solution, you can ensure that your techs have access to all of the information they need, right when they need it. And they won't just be able to find information, they can update it themselves. They'll be able to add notes and pictures to jobs, so they (or other technicians) will be aware of any important information the next time they're at that site.
Keeps Your Technicians Connected
With an FSM software, your technicians can stay connected from anywhere with real-time updates on current and upcoming jobs. They can easily access customer records to better understand their needs. And they have an easy time keeping track of their work orders with our streamlined interface that's user-friendly and intuitive.
Moreover, you can provide techs with a streamlined way to communicate with their supervisors and coworkers back at the office. They can easily message or call each other when they need assistance or clarification on something. This helps keep them feeling connected and supported, which will help them stay motivated and happy in their job.
Your staff don't ever need to wonder whether they're on their own. They'll know that they've got your entire team right behind them, supporting them every step of the way.
Keeps Your Technicians On Task
Your techs can also use the FSM app to look up equipment history while they're out in the field. This can be done on their phone or tablet, so they have instant access to all the information they need. If supplies or other parts are needed, your techs can immediately make a note so the necessary materials are ordered. And they can do it all without needing a host of expensive equipment or dozens of complicated pieces of software.
An FSM all-in-one software is Your Technicians' Greatest Ally
With the right information and communication tools, your techs can get their jobs done quickly and efficiently, making sure that every customer is satisfied with the result. Investing in a field service management system like IndusTrack will help make sure that your techs are always in sync, ready to take on any job.
Whenever you're ready…here are 3 ways we can help you grow your business:
Claim your Free DEMO Session. If you'd like to work with us to turn your business more profitable, claim your FREE DEMO Session. Our founder personally gets through the process and understands your current situation.
If you'd like to learn more about field service management for free, go to our blog.
If you know another service contractor who'd enjoy reading this page, share it with them via email, Linkedin, Twitter, or Facebook.