Software That Works the Way You Do
Exclusive Features for Commercial Contractors
Multi-Location Support
+
Serialized Inventory
+
Purchase Orders
+
Tools Tracking
+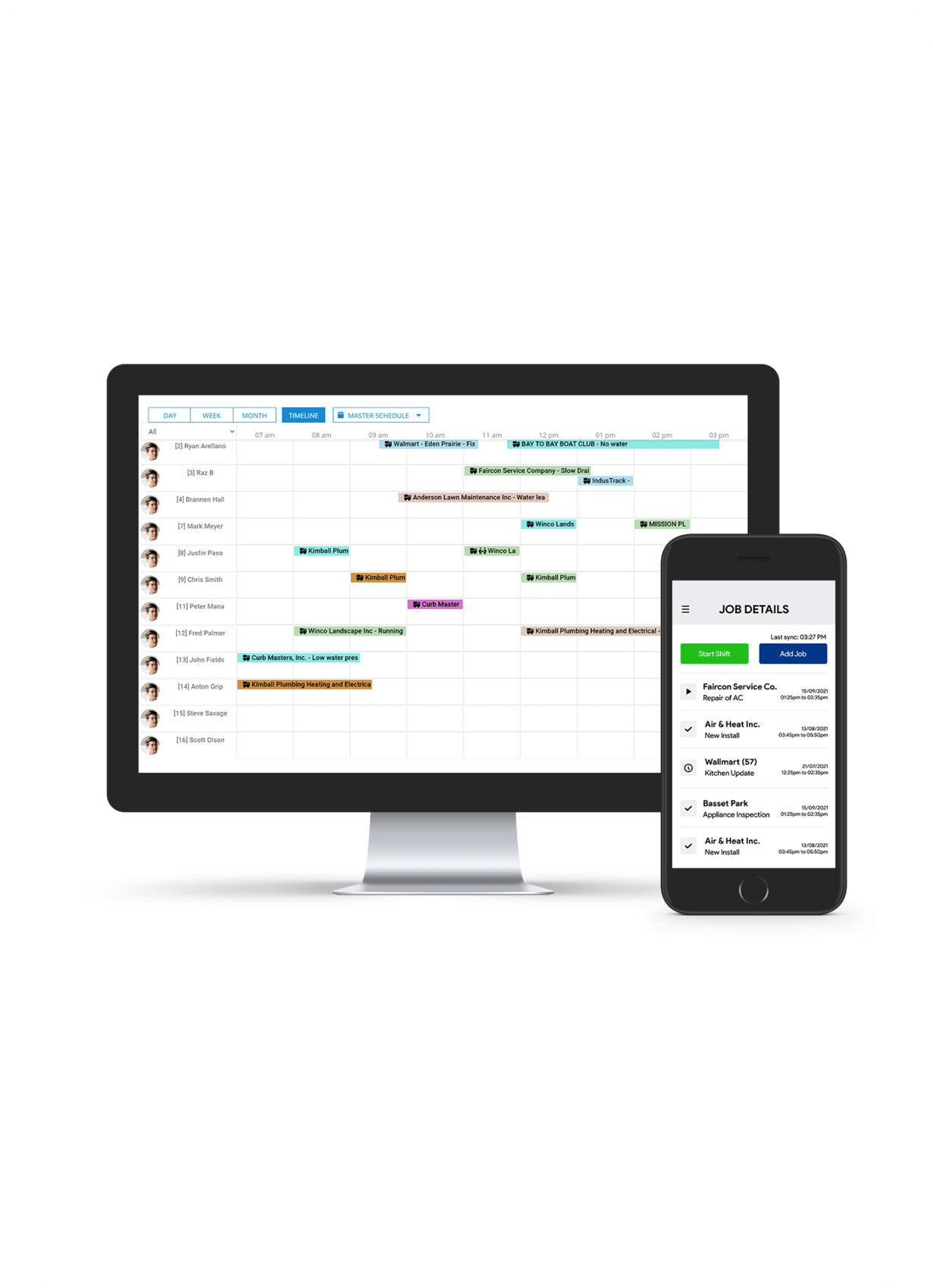 Service Contracts
+
Equipment Tracking
+
Commercial Technician App
+
Online Quote Approvals
+
Tired of Spinning Your Wheels with Outdated Processes?
We've worked with thousands of commercial contractors that are still using paper to manage their operations. So, if you are also stuck in the paper-based world, you can relate to these challenges too.
Spending lots of time calling back and forth to provide job information to techs.
You experience errors with entering data manually into multiple places.
You're wasting extra time looking up customer information and communicating with techs.
You're frequently facing delays in receiving payments and the potential of underbilling.
You find difficulty in scaling the business and making technicians more efficient.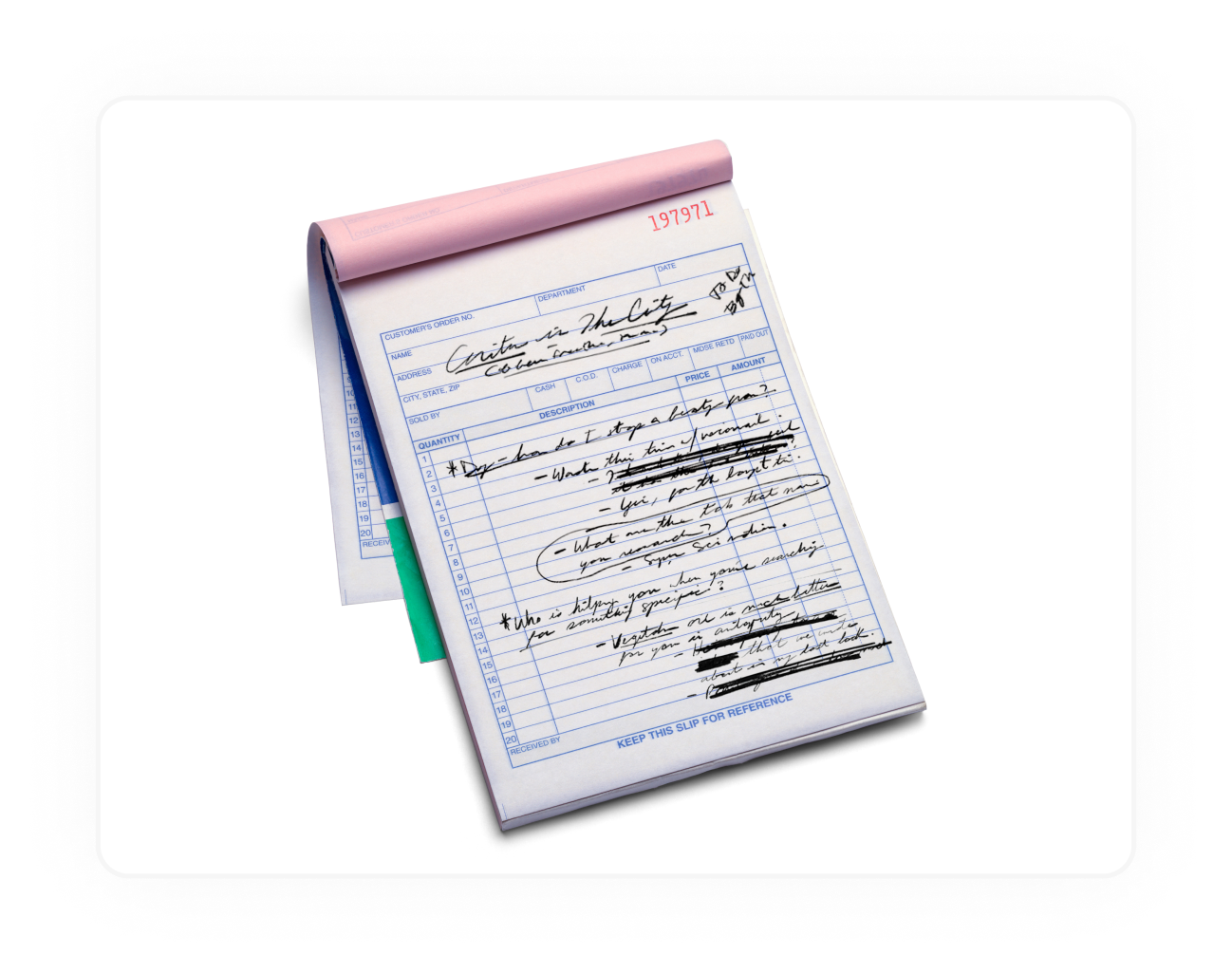 Why Commercial Contractors are NOT Choosing Field Management Software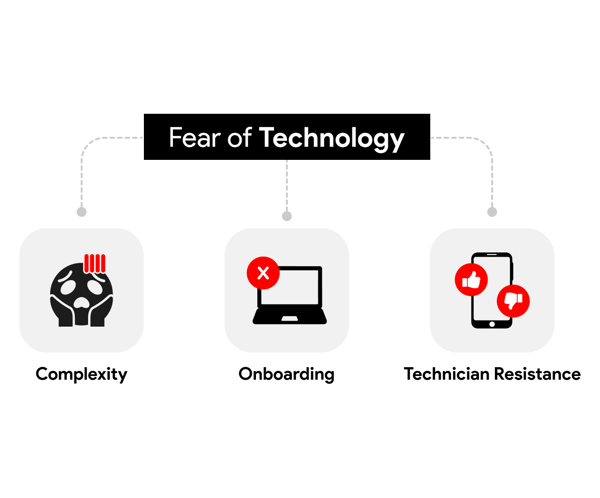 Fear of Complexity
The idea of moving out of their comfort zone may prevent many service contractors from embracing digital technology.
Setup and Adoption
Onboarding concerns around data migration and employee adoption can be daunting for commercial businesses.
Technician Resistance
Adopting digital workflows and instant access to information can be overwhelming for business owners.
We've worked with many commercial contractors who rely on emails & text messages to run their business operations. So, if you're one of those businesses that are still going with outdated methods, these challenges will sound familiar to you.
Continuously emailing and texting for work order changes.
You're responsible for providing historical jobs and equipment information to the techs for each job.
You struggle to create performance reporting by technicians.
There's no accurate way to match job times vs the payroll times.
You're spending hours converting everyday estimates to jobs and changing jobs to invoices.
There's a constant effort to keep track of all work emails.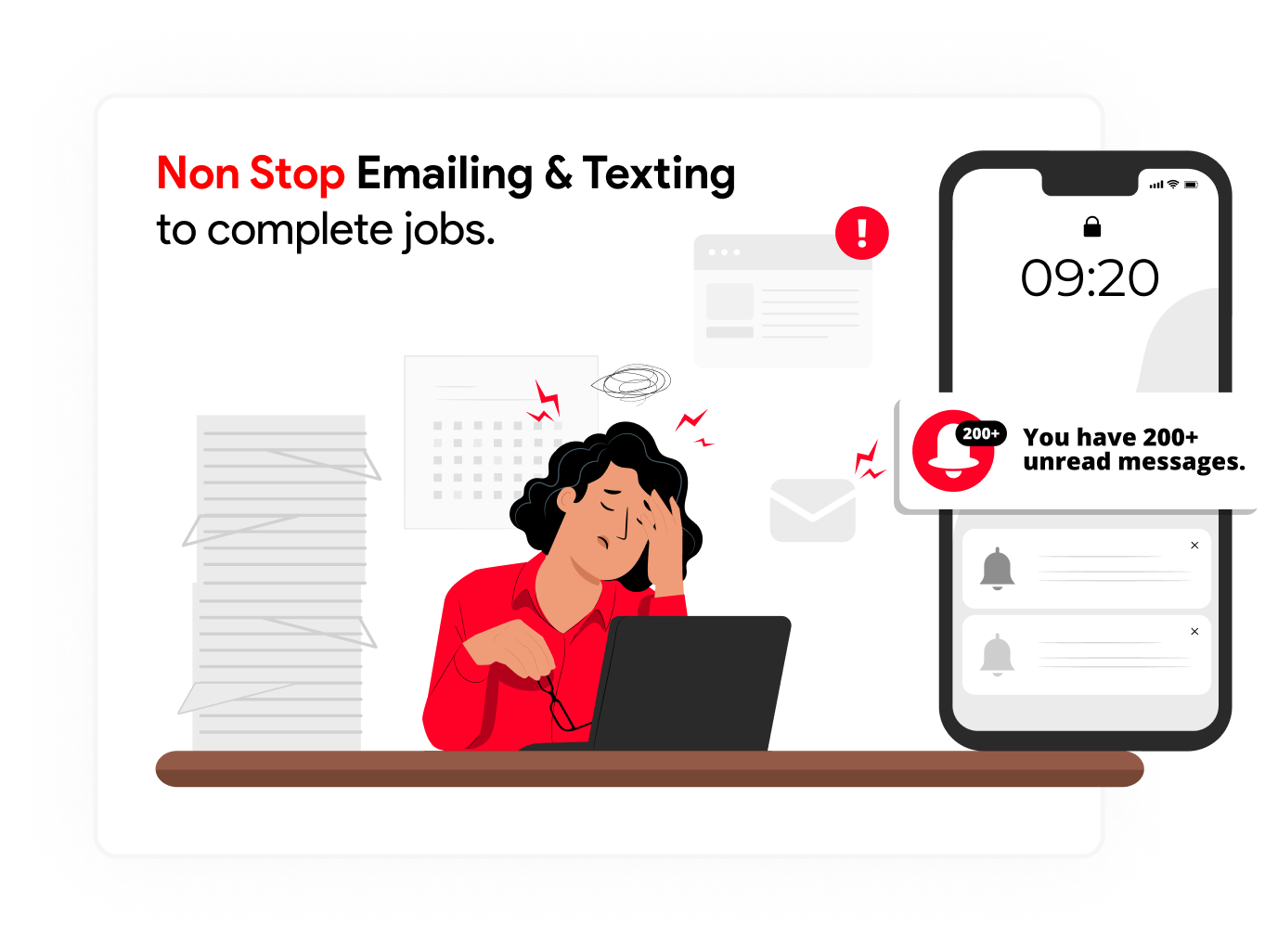 Why Commercial Contractors are NOT Choosing Field Management Software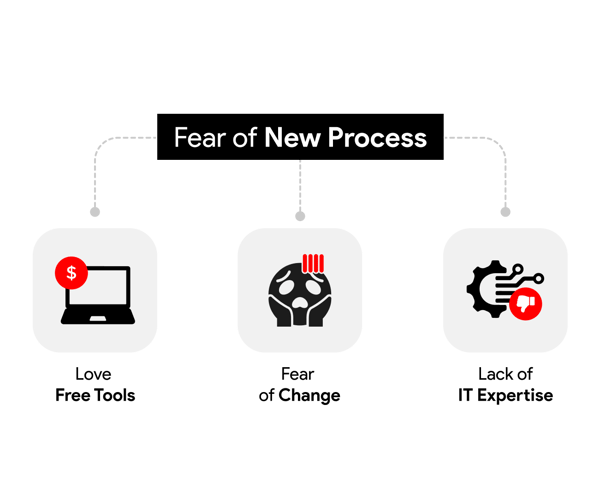 Love Their Free Tools
Businesses like yours might think of a unified system as an expense. However, the free tools cost you more in terms of your time and lost growth opportunities.
Lack of IT Expertise
Businesses avoid field service software because they lack IT knowledge and resources. However, a good FSM system is user-friendly and comes with 24/7 support for a smooth transition.
Not Open to Change
Business owners may find it overwhelming to adopt an advanced system. However, this change can enhance overall business productivity.
Many HVAC contractors we spoke with use a patchwork system of multiple tools, such as one for dispatching and another for invoicing. If you're using the same approach, these challenges may look familiar to you.
Difficulty in creating multi-page professional proposals and converting them to jobs.
You can't find all the assigned, unassigned, and on-hold jobs, in one place.
Not able to track serialized inventory items in purchase orders, jobs, or invoices.
Spending too much time creating service agreements and then creating multiple jobs, one by one.
You're tired of following up on every equipment at each service location and unable to dispatch them to the jobs.
Learn how other HVAC contractors are leaving patchwork behind and overcoming these challenges.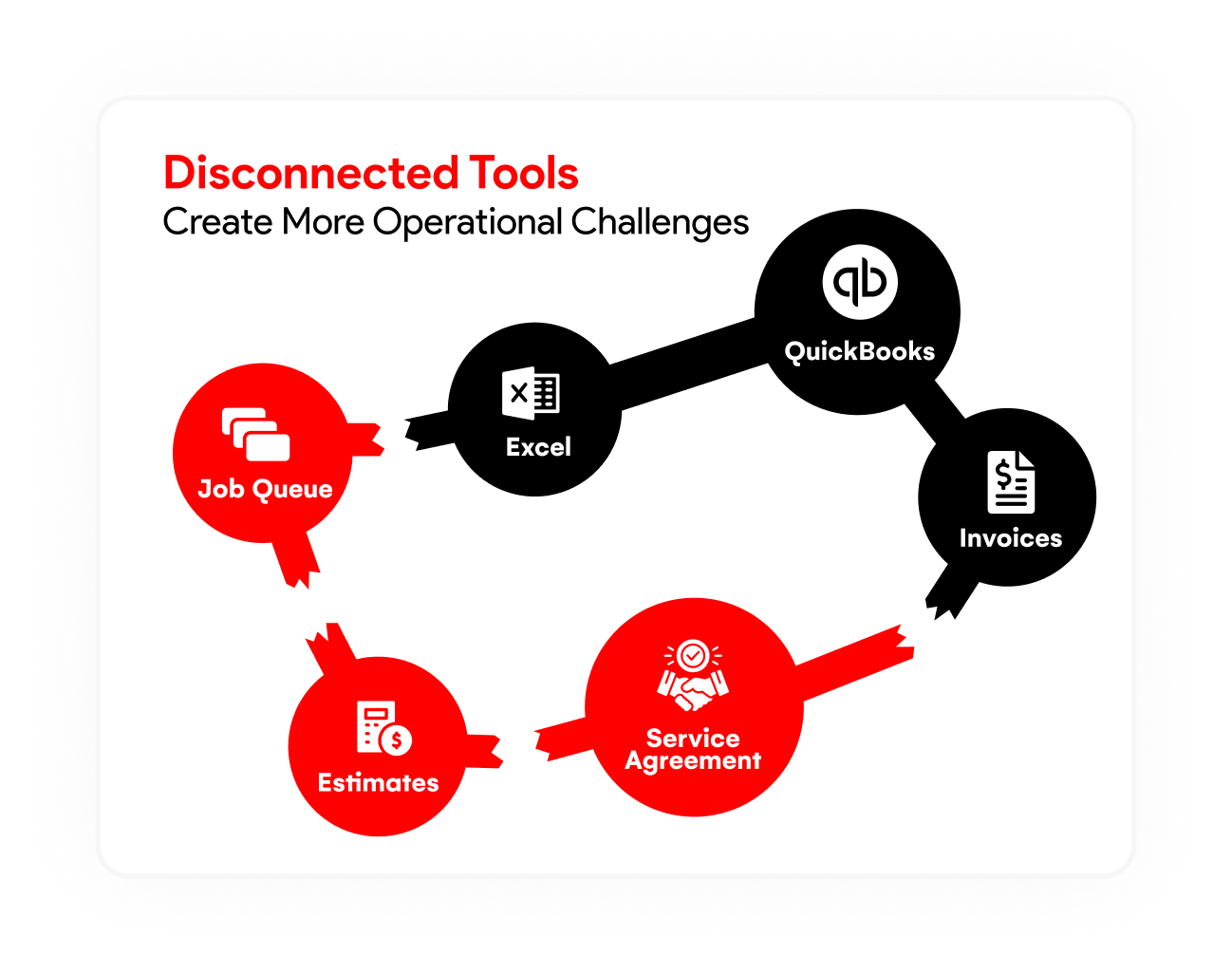 Why Commercial Contractors are NOT Choosing Field Management Software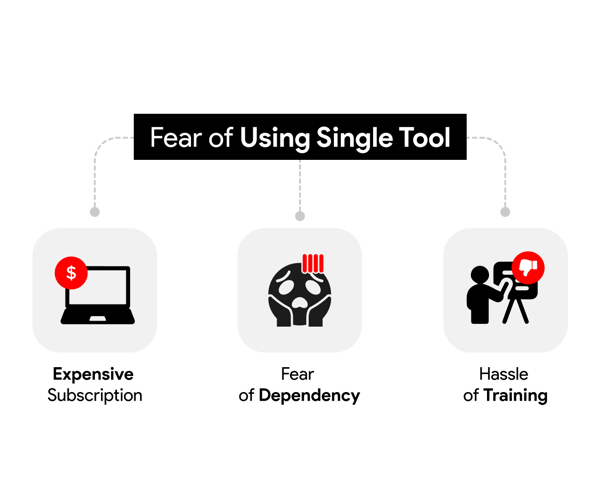 Concerns about Expensive Subscriptions
Your multiple tools for different business functions are costing you more than you think. The right service software can give you around a 10:1 return on investment.
Fear of Dependency upon One System
They think free tools are cool. However, these separate tools don't talk with each other, and that causes discrepancies in different functions of your system.
Scared of Moving Existing Data
Moving existing customer and job data to a new field service system sound daunting, but what if your software vendor handled it for you for free?
Hassle of Retraining
They think that the training will take months, but in fact, when there's one system, it becomes a lot easier. The tool takes less than a day to learn.
What is the Cost of Doing Nothing?
Commercial contractors with 10 field employees typically pay $75 on average per hour per tech, where each tech is spending around 1 hour per day doing paperwork only.
This way commercial companies are wasting $16,500/monthly and $198,000/yearly by running operations using traditional paper methods.
Run your own calculations by using our ROI Calculator.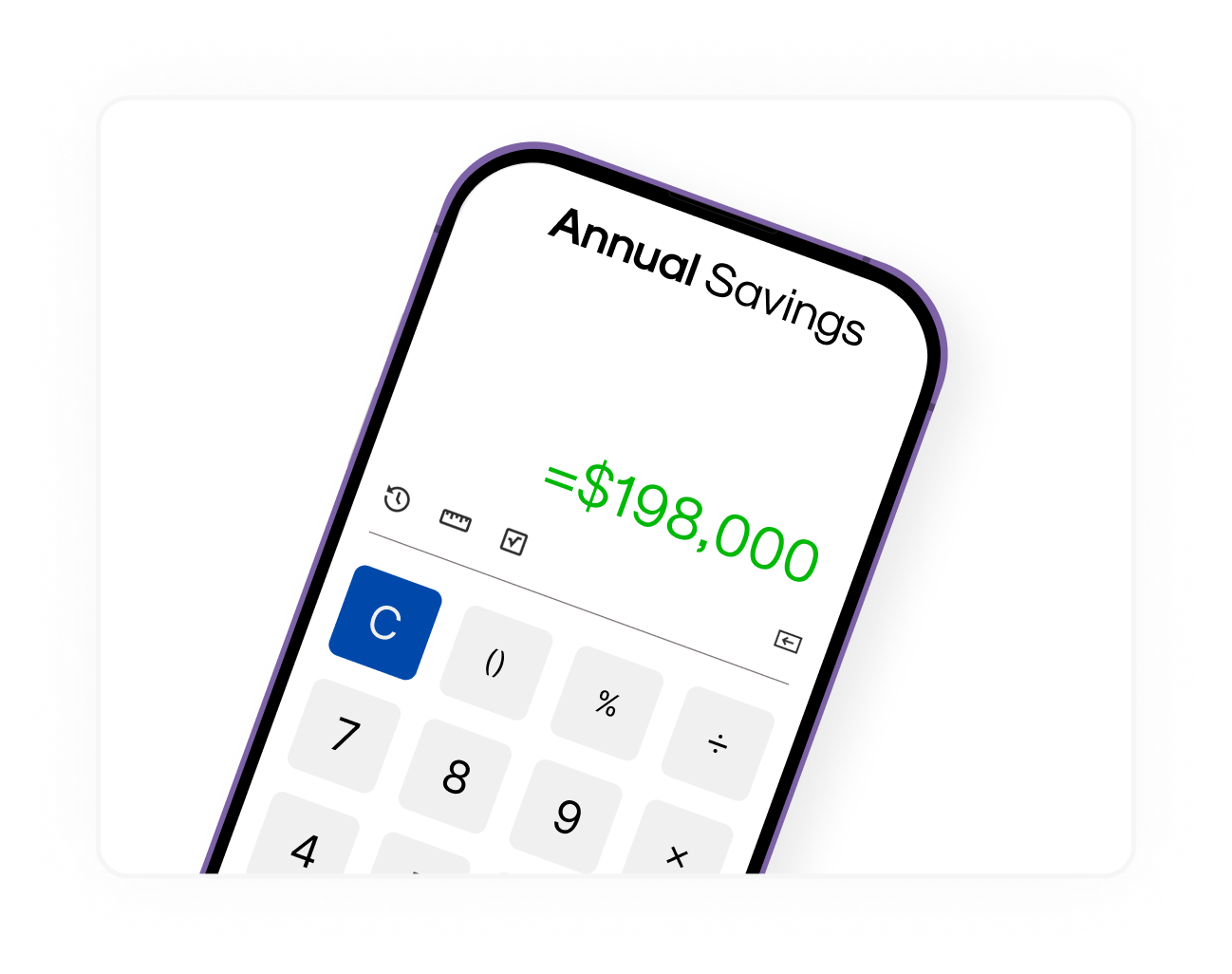 Upgrading to an all-in-one commercial application can get you
Customers Love Us, and Here's Why!
"We had been using DESCO for many years until it became obsolete. When searching for a suitable FSM software, we came across IndusTrack. Migrating all our data to IndusTrack was a smooth process, and we are extremely pleased with the software as it fulfills all our requirements. It offers all the features our HVAC business was looking for!"
J. M. Taylor
J. M. Taylor, Inc.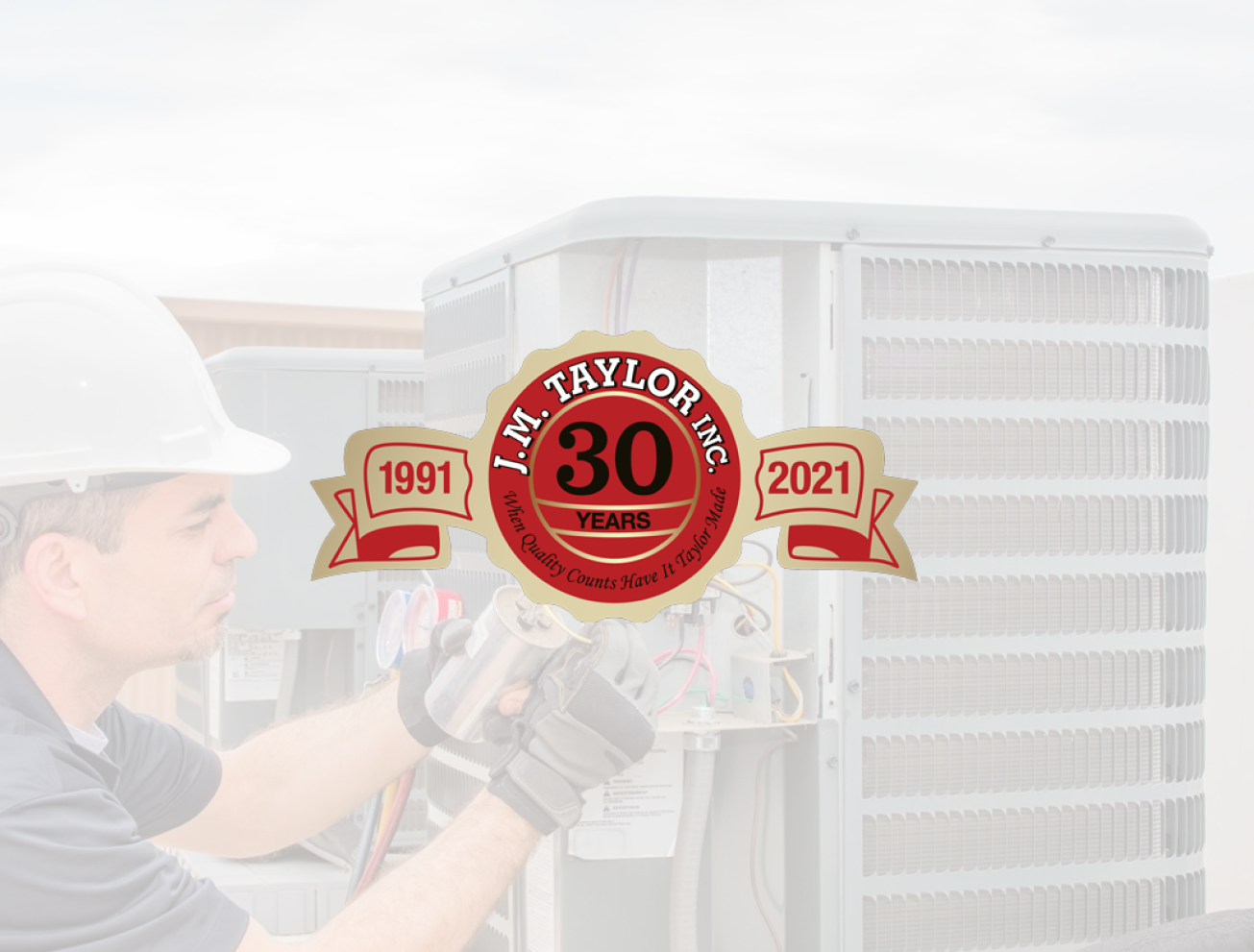 Empower Yourself with Our Handpicked Resources.
Discover How Commercial Contractors Achieve Growth!

5-star customer satisfaction

30-day money-back guarantee

Easy data migration with free setup

Live training & unlimited tech support