Simplify Your Commercial Operations with Job Queues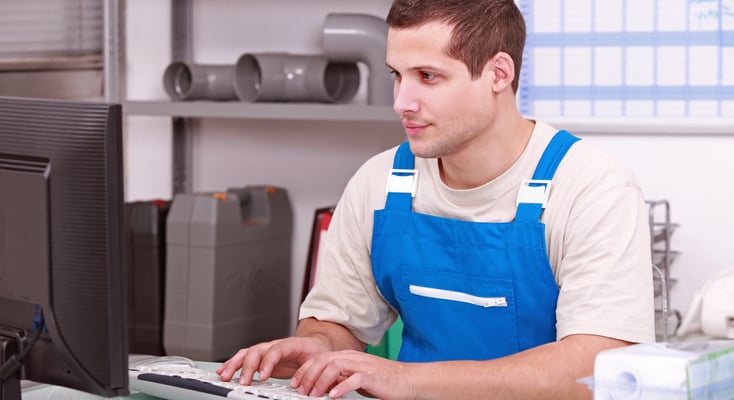 As a commercial service contractor, one of your biggest challenges is undoubtedly juggling all your jobs. You've got to prioritize tasks, ensure all the right materials are available and track the progress of each job.
It's a complex process that can be time-consuming and prone to mistakes. And when you try to keep everything straight without a central hub, your staff will inevitably waste valuable time shuffling through papers and checking e-mail records.
Luckily, there is an easier way: an FSM all-in-one solution that features a robust job queue system.
The Power of Job Queues
Job queues give you the power to track all of your clients and their jobs at a glance. This is particularly helpful when you have to put a job on hold, something that regularly happens to commercial contractors. With a job queue, you won't have to remember which jobs are on hold. And you won't have to worry with complicated systems that may or may not work.
Instead, you can view all your jobs, if they are completed, invoiced, or on-hold; you can access on-hold jobs as well as the reason behind their hold status. In addition, you'll have the ability to see when jobs need to be rescheduled. You'll even be able to take advantage of automated notifications that let you know if a customer already has a job on hold when you begin scheduling a new one.
Because of all this, you'll save time, money, and a world of frustration.
How Job Queues Can Help Your Business
But that's the power of an all-in-one FSM solution. It'll give you the ability to quickly and easily browse your job queues and see status updates for each one. You'll be able to filter and sort them, so finding the right job takes no time at all, even if you've got hundreds of jobs in the queue. With just a few clicks, you'll have access to all unassigned, assigned, on-hold, completed, and more. So, you'll always know where every job stands.
Unprecedented Access to Your Jobs
But you won't just have barebones access to the status of each job. Your technicians will have the ability to report on those jobs, ensuring your business is always on top of things. You'll never have to wonder who needs to finish their most recent job. Or who's just been assigned to a client. Or which jobs have invoices and which ones don't. And neither will any of your workers.
An End-to-End Solution for Your Staff
When a client calls in, your office staff will be able to schedule a job, immediately letting the assigned technician know that they've got work to do. And your technicians will be able to handle all the information for the job from their digital devices, including getting signatures, payments, and more.
Finally, when a job is complete, you can easily convert it into an invoice and send that off to your client digitally. It's just as easy to add notes or attach files to the job, ensuring all of your records are organized and up-to-date. And once the job has been paid for, you can change its status to reflect that.
Simplify your commercial operations today by implementing an all-in-one FSM solution featuring a powerful job queue system. You'll save time and money while making your entire business more client-friendly and effective. And most importantly, you'll make sure all your jobs are tracked efficiently — so nothing ever slips through the cracks again.
Welcome the power of automation into your business!
Whenever you're ready…here are 3 ways we can help you grow your business:
Claim your Free DEMO Session. If you'd like to work with us to turn your business more profitable, claim your FREE DEMO Session. Our founder personally gets through the process and understands your current situation.
If you'd like to learn more about field service management for free, go to our blog.
If you know another service contractor who'd enjoy reading this page, share it with them via email, Linkedin, Twitter, or Facebook.