Providing the Best Custom Forms for your Business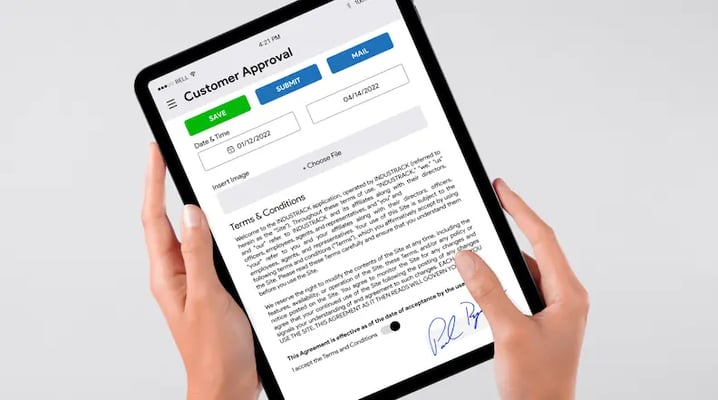 Go digital and forget the paper forms. With IndusTrack's form product, you can create a exact replicas of your paper forms so the employees are familiar and can easily adopt.
Build and customize your data forms to manage your work orders. You can build an unlimited number of forms using drag and drop interfaces.
Digital forms will help you save time and money. Digital forms will actually streamline your business processes. You can eliminate errors and lost forms plus keep your data captured on your mobile devices even when you are offline.
Digital forms are easy to fill out and update using any tablet or phone. Your forms can be updated by anyone who has a company mobile device, permission or works with the office staff. This type of digital work leaves an audit trail available for ease of budgeting, auditing, and determining workflow and asset assignment.
It does not matter what type of processes you currently utilize to determine your workflow. You can automate that system and turn it into a digital work order. If you are tracking data on paper forms, use a digital form to automate and electronically manage your processes.
With customized forms using your design and your company's resources, you can create new work orders based on previous orders. Reassign workstations and projects, send emails or data to external sources based on the rules that you have set up for each form.
Analytics are possible by using your own measurable data on your own customized forms. You can have charts created of your data so you can visualize where your business is going and what changes you need to make. Forms will help you format methods that are easy to understand.
Reports are very important to analytics. With mobile forms, you can run reports by form type or by the mobile worker. You also have the ability to view forms that are attached to different jobs. If you need, you can update your historical forms right from your mobile.
Follow your fleets, assets, and make sure you are in compliance with government and industry procedures. This is the beauty of mobile forms and a mobile workforce.
You can customize all forms for your company's smartphones. This makes business easy, efficient, and downtime is at a minimum. Leverage the power of being mobile and don't let any business plan, order, invoice or workflow pass you by.
Request a personalized demo of IndusTrack today.