Total cost of ownership, 10 seats, 3 years

In-vehicle hardwired GPS tracking

Requires third-party add-on

Alerts for overspeeding, brakes, acceleration, geofencing, idle time, and ignition

Requires third-party add-on

Maintenance tracking - Get alerts for oil changes, tire rotations, and other preventive maintenance

checkups

Requires third-party add-on

Maintenance logging - Record all preventive and non-preventive maintenance

checkups

Requires third-party add-on

Mileage - Track mileage in state and out of state, and run IFTA reports

Requires third-party add-on

Engine hours - Track engine hours for all assets and equipment

Requires third-party add-on

Track inventory parts & non-inventory items - Track the life of a part all the way from warehouse to tech, customer installation, and invoice

Generate barcodes and QR codes using bin and aisle numbers for your warehouses

Track equipment and warranty by a serial number, QR code, or barcode

Track inventory by warehouses and trucks

All your customer information is in one place, organized by tabs for estimates, invoices, service locations, notes, service contracts, and much more

✔

Create schedules, add tasks, attach parts, and manage resource availability. Dispatch jobs and equipment to techs, and see the availability

Techs can track time, add jobs, create estimates and invoices, receive payments, view job history, get equipment details, complete forms, and capture signatures

A configurable mobile client based on the technician's workflow

Create an online portal for each customer with a unique login ID and password

Send notifications to customers for jobs scheduled, techs en route, and jobs completed

Send the technician's information and photo to a customer prior to a job

Create estimates using flat-rate price books or inventory and convert them to jobs

Create customized and branded proposals from configurable templates with terms & conditions, and signature field

Send proposals directly to customers online and get signature approvals

Create estimates in the field and convert them to jobs with a click

Create invoices in the field or office from jobs, estimates, or from scratch

✔

Send auto reminders for overdue invoices and automatically add late fees

Add discounts for customers based on negotiated pricing

Add pictures and forms from jobs as attachments

Automatically add all job notes to invoices

Take payments in the field or in the office with integrated payment processing

✔

Generate profitable service contract estimates that will include equipment items, services for all equipment, and the duration of the contract

Requires commercial package


Send service contracts electronically to customers and get online signature approval

Requires commercial package


Convert service contracts and automatically generate a list of jobs based on the contract

Requires commercial package

Keep track of all jobs performed for a given contract using reports

Requires commercial package

Run reports based on the work history

of each piece of equipment

Requires commercial package

Generate templated, customized memberships for residential customers and automatically schedule future services

✔

Create unlimited forms and checklists using the drag-and-drop tool. Select from 30+ different options to build any type of form including pictures, signatures, and more

Set up form triggers for techs - Remind them to complete forms at job start or completion

Attach forms to jobs or fill them out independently

Track shifts, job time, travel time, and breaks for each technician

Automatically create timesheets for techs as they start and end jobs

Supervisors can clock in and clock out crew members on jobs

Allow techs to view their timesheets and supervisors to approve timesheets

Reminders & Notifications

A comprehensive set of reminders and notifications to keep your office team informed

✔

Assign reminders to each office user

Set up reminders for jobs on hold, low inventory, driver license renewals, medical card renewals, service contract scheduling, and expirations

Basic, advanced, and customized reporting and dashboards


✔

Complete integration module with both sync and import capabilities

An offline mobile mode so, technicians can work without cellular data

Lorem ipsum dolor sit amet, consectetur adipiscing elit, sed do eiusmod tempor incididunt ut labore et dolore magna aliqua. Ut enim ad minim veniam, quis nostrud exercitation ullamco.

Allow techs to view and edit their timesheets and supervisors to approve timesheets

Create purchase orders from the field & fill out custom forms for the jobs with reminder triggers

Assign multiple technicians to a job and allow each technician to complete their own jobs for payroll.

Add / update equipment for any service location or customer.

Technicians can locate nearby trucks to get the required equipment for the job.

Track inventory on warehouses and vehicles. In warehouses, track inventory by isle, bins, or serial numbers.

Lorem ipsum dolor sit amet, consectetur adipiscing elit, sed do eiusmod tempor incididunt ut labore et dolore magna aliqua. Ut enim ad minim veniam, quis nostrud exercitation ullamco.

Generate barcodes and QR codes for inventory items. Ability to track each part history from purchase orders to estimates, to jobs, and invoices.

Lorem ipsum dolor sit amet, consectetur adipiscing elit, sed do eiusmod tempor incididunt ut labore et dolore magna aliqua. Ut enim ad minim veniam, quis nostrud exercitation ullamco.

Create and manage purchase orders from the office or the field, and attach them to jobs

Set margins & notifications for reorder points so you know when and how much to re-order.

Create customized multi-page proposals, s

end them to customers, and get online approvals

Lorem ipsum dolor sit amet, consectetur adipiscing elit, sed do eiusmod tempor incididunt ut labore et dolore magna aliqua. Ut enim ad minim veniam, quis nostrud exercitation ullamco.

Convert estimates to jobs with all the information and keep track of your profitability per estimate.

Lorem ipsum dolor sit amet, consectetur adipiscing elit, sed do eiusmod tempor incididunt ut labore et dolore magna aliqua. Ut enim ad minim veniam, quis nostrud exercitation ullamco.

Hide each line item or add discounts. Choose to only show the total amount.

Convert invoices from jobs or create new ones from the field and the office.

Lorem ipsum dolor sit amet, consectetur adipiscing elit, sed do eiusmod tempor incididunt ut labore et dolore magna aliqua. Ut enim ad minim veniam, quis nostrud exercitation ullamco.

Automatically add all the notes and parts when converting a job to an invoice. Select the pictures and forms from the drop-down to attach to the invoice.

Lorem ipsum dolor sit amet, consectetur adipiscing elit, sed do eiusmod tempor incididunt ut labore et dolore magna aliqua. Ut enim ad minim veniam, quis nostrud exercitation ullamco.

Manage multiple sites for a single client. For commercial sites, select the location to invoice 'bill to' or service location.  

Select multiple complete jobs for the same customer to create a single invoice.

Receive partial payments for an invoice, or split a payment between two different payment methods.

Generate profitable service contract estimates that will include equipment items, services for all equipment, and the duration of the contract

Lorem ipsum dolor sit amet, consectetur adipiscing elit, sed do eiusmod tempor incididunt ut labore et dolore magna aliqua. Ut enim ad minim veniam, quis nostrud exercitation ullamco.

Automatically generate a list of jobs based on the contract. Keep track of all jobs performed for a given contract using reports

Lorem ipsum dolor sit amet, consectetur adipiscing elit, sed do eiusmod tempor incididunt ut labore et dolore magna aliqua. Ut enim ad minim veniam, quis nostrud exercitation ullamco.

Reminders & Notifications

A comprehensive set of reminders and notifications to keep your office team informed. Ability to assign reminders to other office users.

Lorem ipsum dolor sit amet, consectetur adipiscing elit, sed do eiusmod tempor incididunt ut labore et dolore magna aliqua. Ut enim ad minim veniam, quis nostrud exercitation ullamco.

Limited

Set up reminders for jobs on hold, low inventory, driver license renewals, medical card renewals, service contract scheduling, and expirations

Lorem ipsum dolor sit amet, consectetur adipiscing elit, sed do eiusmod tempor incididunt ut labore et dolore magna aliqua. Ut enim ad minim veniam, quis nostrud exercitation ullamco.

Send notifications to customers for jobs scheduled, techs en route, and jobs completed

Automatically send friendly payment reminders for 30-, 60-, and 90- days.

In-vehicle hardwired GPS tracking

Lorem ipsum dolor sit amet, consectetur adipiscing elit, sed do eiusmod tempor incididunt ut labore et dolore magna aliqua. Ut enim ad minim veniam, quis nostrud exercitation ullamco.

Alerts for overspeeding, brakes, acceleration, geofencing, idle time, and ignition

Lorem ipsum dolor sit amet, consectetur adipiscing elit, sed do eiusmod tempor incididunt ut labore et dolore magna aliqua. Ut enim ad minim veniam, quis nostrud exercitation ullamco.

Maintenance tracking - Get alerts for oil changes, tire rotations, and other preventive maintenance

checkups

Lorem ipsum dolor sit amet, consectetur adipiscing elit, sed do eiusmod tempor incididunt ut labore et dolore magna aliqua. Ut enim ad minim veniam, quis nostrud exercitation ullamco.

Maintenance logging - Record all preventive and non-preventive maintenance

checkups.

Track mileage and engine hours for each vehicle

Lorem ipsum dolor sit amet, consectetur adipiscing elit, sed do eiusmod tempor incididunt ut labore et dolore magna aliqua. Ut enim ad minim veniam, quis nostrud exercitation ullamco.

Lorem ipsum dolor sit amet, consectetur adipiscing elit, sed do eiusmod tempor incididunt ut labore et dolore magna aliqua. Ut enim ad minim veniam, quis nostrud exercitation ullamco.

Personalized chat & phone support

Access to recorded and shared live video training
IndusTrack can help you grow your Business Faster.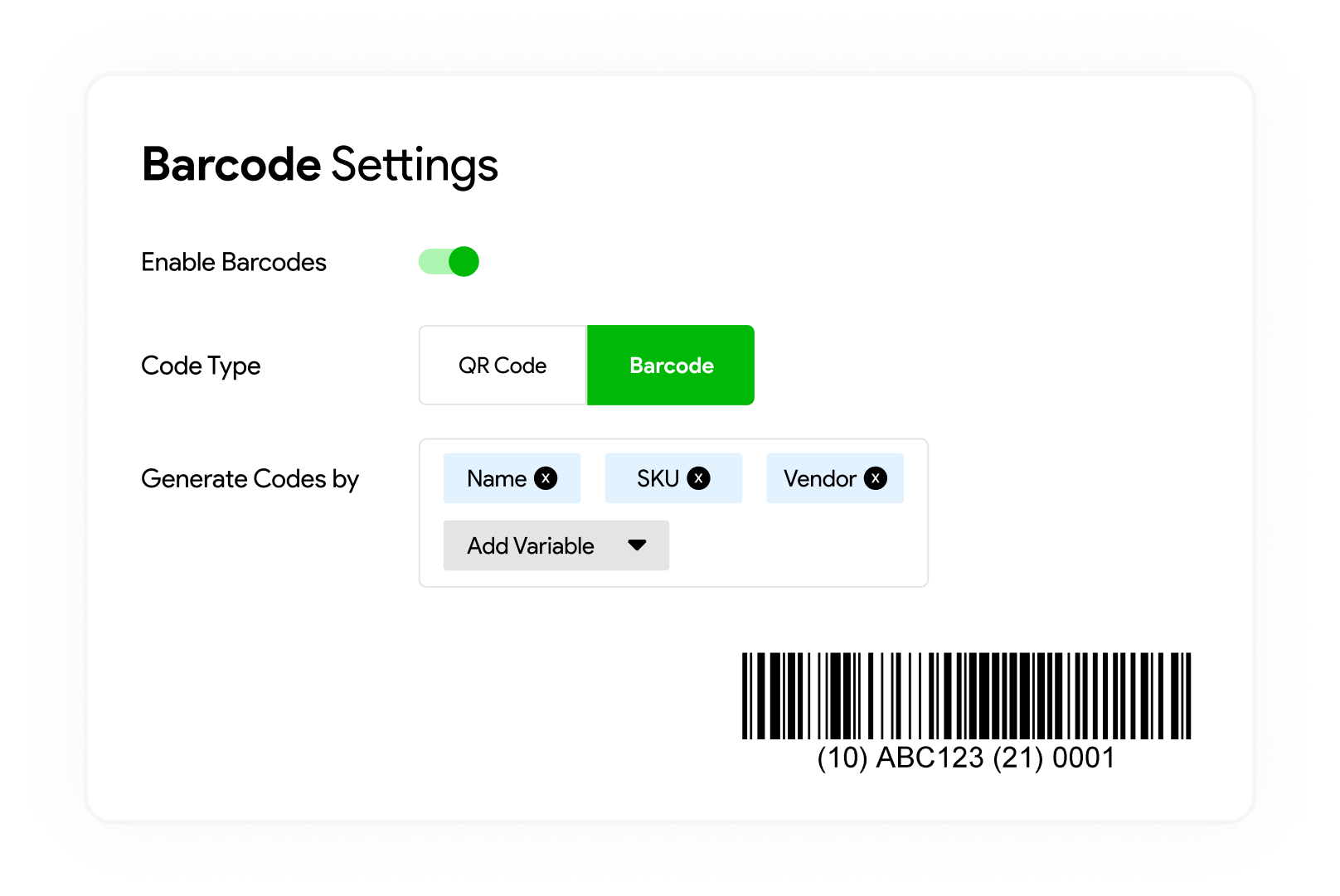 Instant barcode creation for items.
Create individual barcodes and QR codes with accurate bin and aisle numbers or other preferred criteria.
Print barcode or QR code labels for assemblies and parts.
Scan items in and out of inventory using the mobile scan tool.
Stop the endless search for missing tools.
Create a barcode or a QR code for every tool and scan it to add to the inventory.
Techs can scan the tool, add to the job and the warehouse people can scan it back to the warehouse.
Keep track of tools' location, at the warehouse or at the job site, and know who last checked it out.
Run reports for tools to know the detailed usage history, including tech's details for scanning in or out.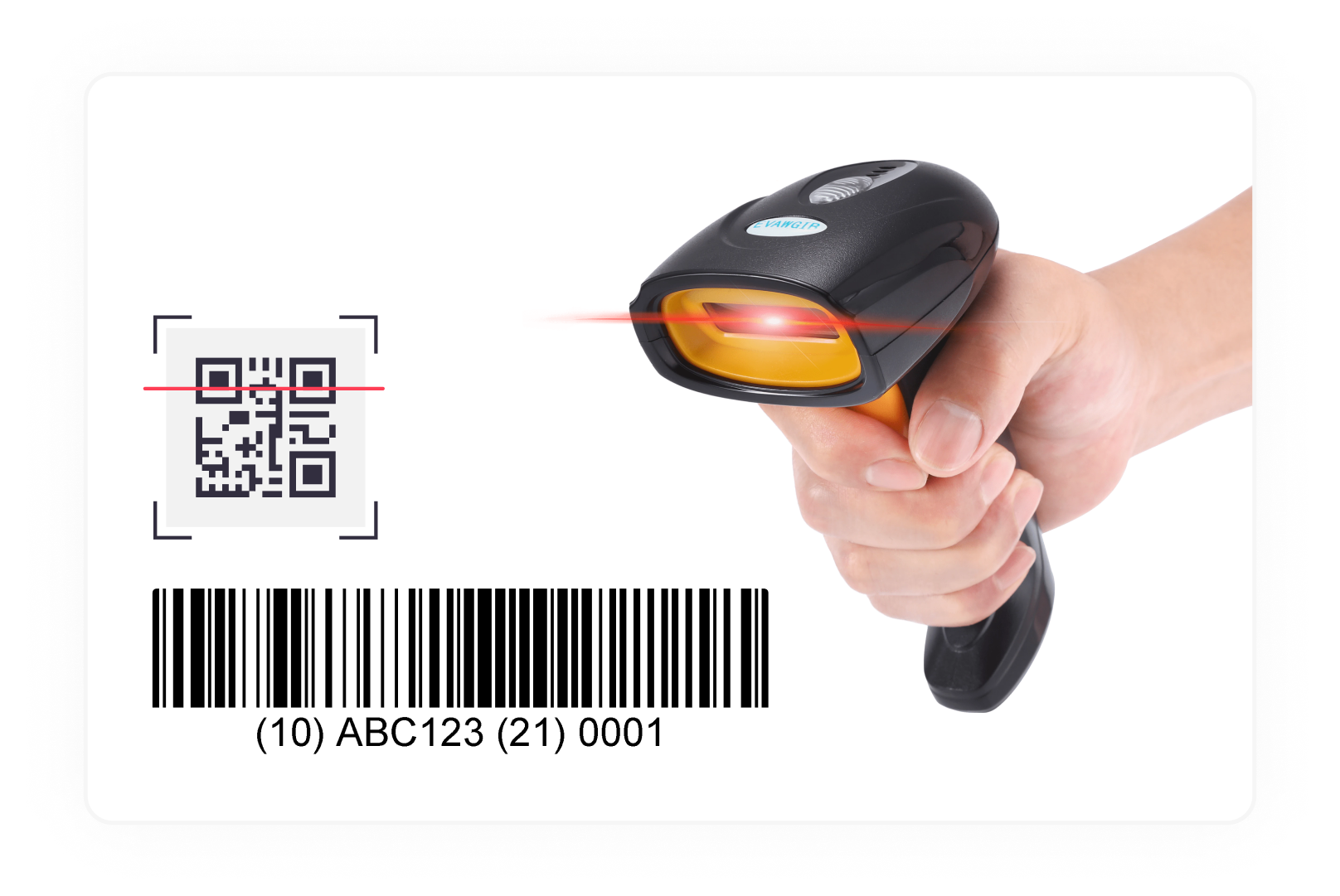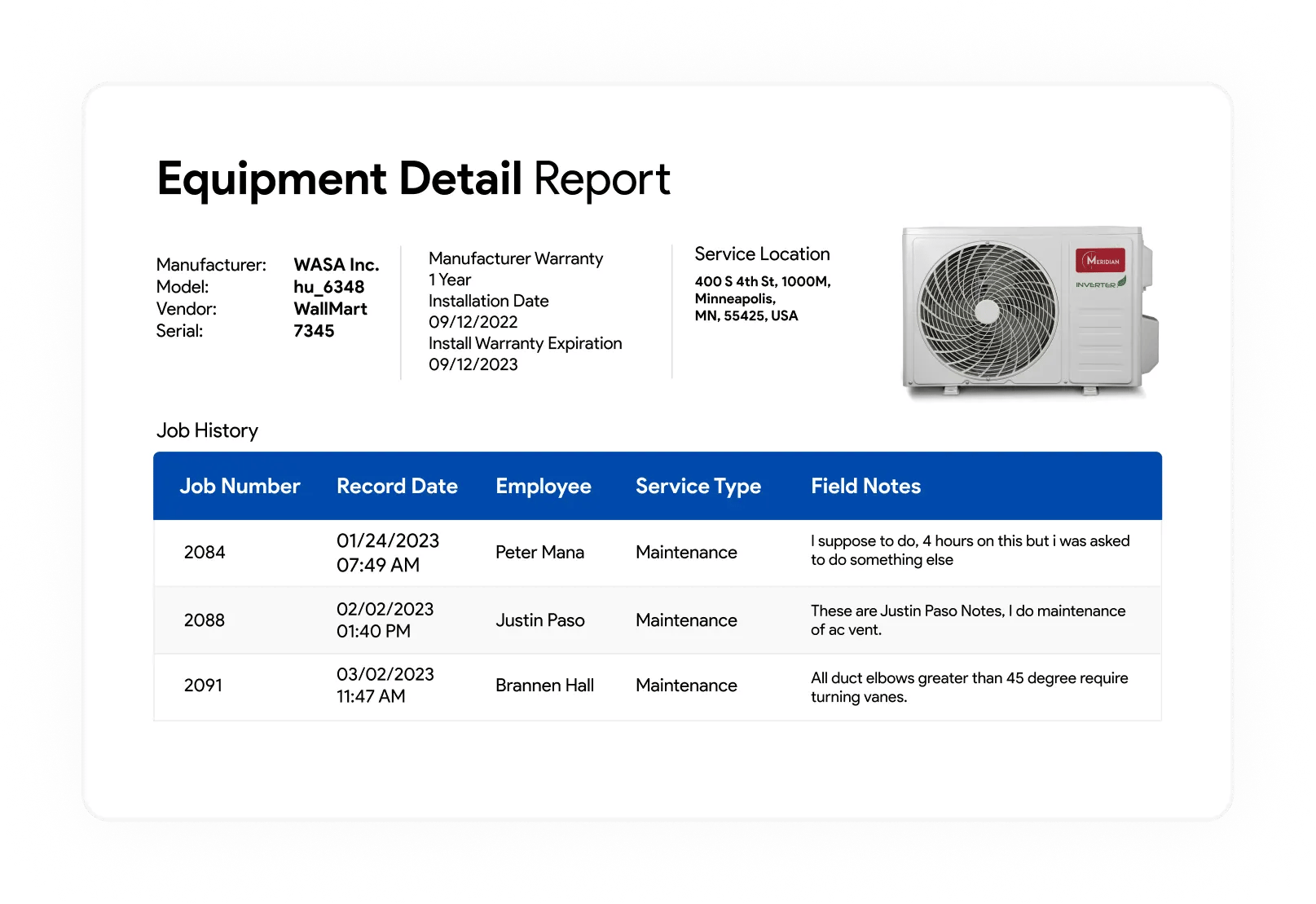 Get equipment & warranty details on the fly.
Run reports to review

equipment used at each service location.

Review equipment work history with all the notes and pictures added.

Know which equipment is expired, and get updated on the upcoming warranty expirations. Export all your reports to XLS or PDF files with a click.
Integrated live maps.
Always know where your technicians are, by having both customers' and technicians' exact locations on the map.

View all the jobs assigned with up-to-the-minute changes.

Easily switch between the street for satellite view and search customers, jobs, vehicles, or techs.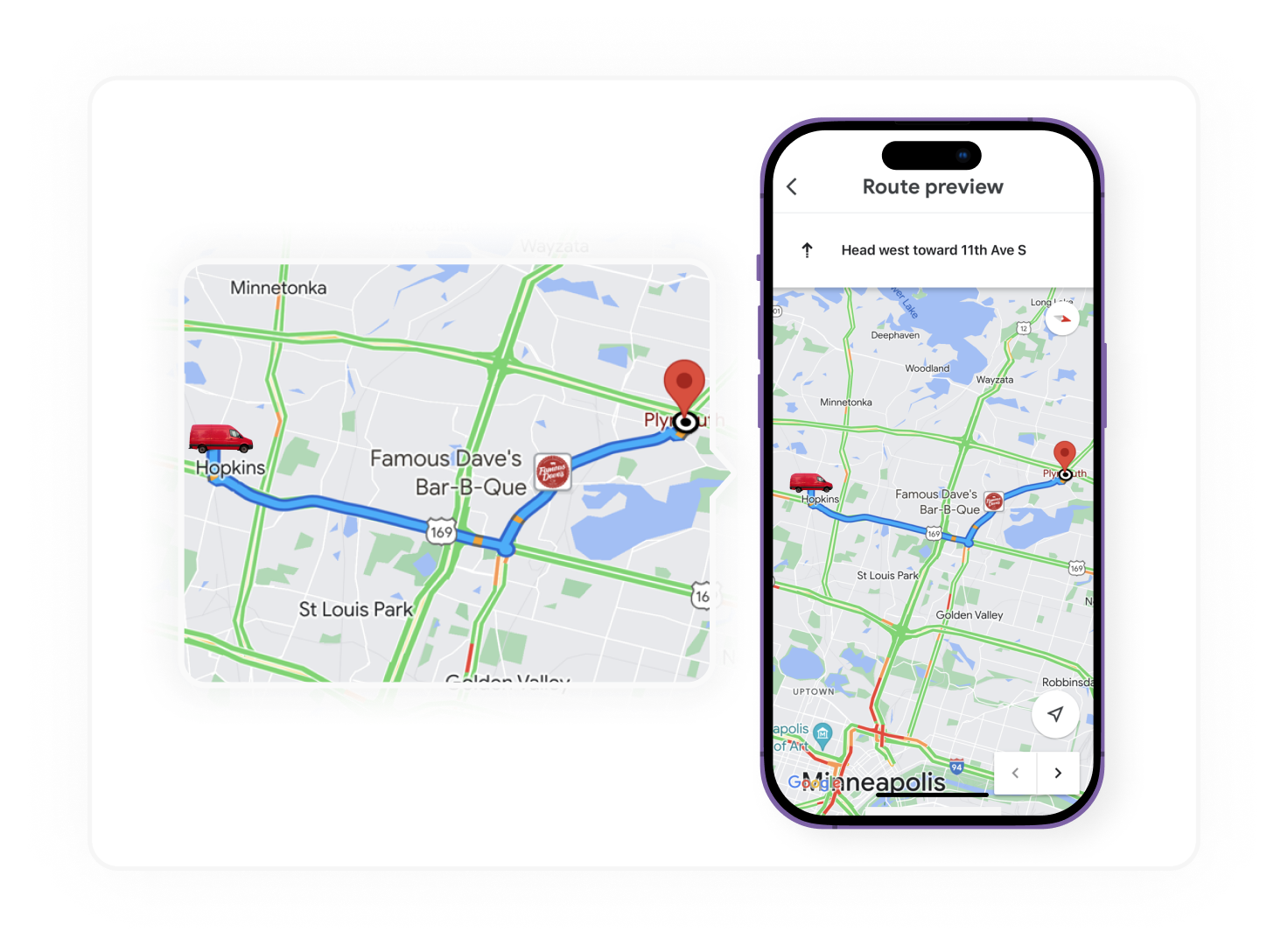 Less Hassle, More Profit.
Are you ready to get a 10:1 return on investment?